I think the phrase is "Necessity is the mother of invention." J & I learned quickly that sleep was a necessity for all involved, especially since we both work to some degree. Through some American & sleep-deprived ingenuity, we came up with these baby hacks! (sorry if anyone has thought of these before. Just let me know & I'll be sure to credit you!)
The Sleep Sack Ponytail: Baby J was very used to being compressed in a sweet little frog position, in a womb that was relatively small, for 40 weeks & 2 days. He often curled himself into this position when we snuggled him… & when he was trying to fall asleep. Not conducive to the Back is Best position (which we are very adamant about except for occasional naps when we are beside him.) He quickly broke free of even Daddy's tight muslin swaddles, causing Mommy to worry about it covering his face when he slept. And the sleep sacks held his arms nice & tight, but his legs were still too loose for his liking. So…
2. Vaseline Diapers: Baby J was circumcised at 2 weeks old. The Dr. showed me how to ice cream cone the Vaseline from the tube onto his wee-wee while he was strapped to the table sucking on sugar water. Easy enough, but I still dreaded the first diaper change with no table or sugar water. When I had waited to the point that I felt like a neglectful mother, I decided it was time. I placed him on the changing table, spoke in soothing tones that he probably saw right through, removed his diaper, & then chaos. Blood, bandages, pee all over the wall, vaseline that didn't ice cream cone, crying baby, crying mommy, more pee & finally, poop. As he laid in a poopy pee puddle, I gingerly scraped the Vaseline onto his wee-wee, apologizing the whole time. I knew there had to be a better way! Thankfully, J came home before the next diaper change & came up with this hack after hearing my horror story…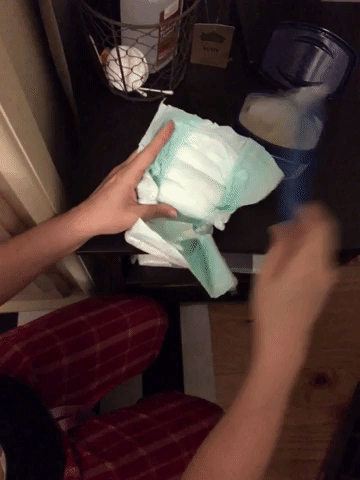 Note: we were warned this could decrease the absorbency of the diaper, but we never had any leaks. Also, making enough Vaseline Diapers for nighttime changes ahead of time = more sleep for you, Momma!
3. Manual Pack n Play Oscillations: Baby J needs a fair amount of sensory input to fall asleep. Ideally, held super tight, while walking, swaying, & bouncing, singing a sweet song, & stroking his nose. But Momma can only do that so long before she needs a rest break. To ease the transition between well-trained adult & the Pack 'n Play
, we discovered that there is just enough give in the upper level mattress attachment to simulate rocking…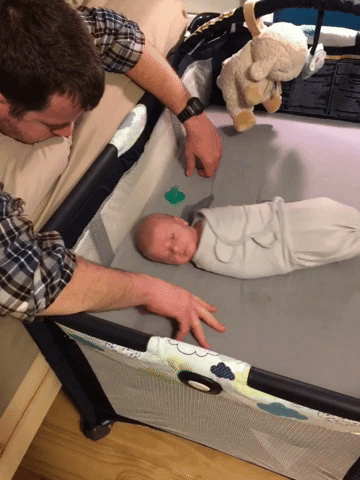 This is pretty much what our nights looks like: Baby J NOT asleep, while one of us hangs over the side of the bed, often falling asleep while oscillating & holding a paci in place!
4. Reverse Onesie Changes: My son HATES anything going on or over his head. Change his diaper, give him a bath, put him on his tummy, but DO NOT try to put a onesie over his head if you value quiet spaces. I remembered seeing a video that explained why onesies have split shoulders – so you can pull it off in a downward direction when they have poop explosions, keeping their head & face clean! I thought to myself, if they come off like that, they can go on like that! Plus, it's easier to get his hands & arms down into long sleeves than up into them…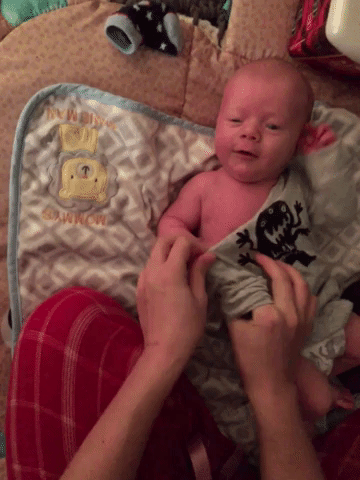 I would be remiss if I didn't give this disclaimer: my husband came up with all of these except the Reverse Onesie Changes. That one is all mine & he laughs at it every time because he thinks its a reverse hack, making dressing time actually harder. I'll let you decide that on your own!
So, I hope some of these are helpful! What about you? Did you discover any baby hacks that saved your sleep, sanity, or marriage during those first few weeks?
SaveSave