Sign language has always been fascinating to me. My first exposure to signs were through my mother telling me to "STOP" whatever distracting thing I was doing in the middle of a church service & the "I LOVE YOU" sign as she would drop me off at daycare (which I thought was a special sign just between us, but it's a real thing…) I also saw therapists use it to encourage children to "JUMP!" or "SIT DOWN." I will never forget my best friend's little sister who couldn't communicate verbally saying "PLEASE" & "THANK YOU" through signs.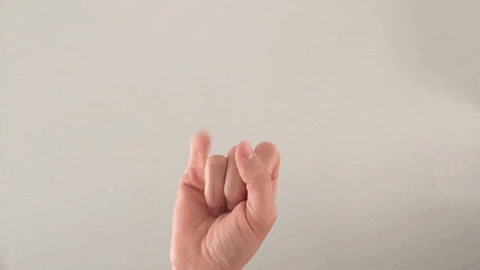 I decided I would like to teach Baby J signs so that he could communicate his needs to us before he could speak. It made sense to me because I know his receptive skills develop much sooner than his expressive, which can lead to a very frustrated toddler – they know what they want, they just can't find the words yet! But I had some questions…
When do I start? Will learning signs delay his speech? When should I expect him to use the signs for himself? Where do I go to learn sign language correctly?
All of my questions were answered through Adrienne's sign language courses. Adrienne is not only a super awesome early intervention Speech-Language Pathologist, she is a small business owner, entrepreneur, & my cousin-in-law! Her courses include Baby Sign Language for Mealtimes, How to Help Your Toddler Talk More, & her most popular Sign Language in 30 days.
First, a little more about Adrienne. 
She & I have a lot in common: we love to dance, we know our Myers-Briggs equation, we like lists & we both work with little people & their families. A few differences – she DOESN'T like coffee & she is an expert in empowering parents to help their little people communicate more efficiently through words & signs.
Now about her online courses.
These bite sized lessons are perfectly proportioned for the small allotments of time that 4 month old babies allow throughout the day. She provides memory tricks for all of the signs, which is super helpful for my mom brain. Plus, there are checklists. Checklists! There is nothing like seeing tangible progress on days when the laundry pile continuously grows & your little one's 3 hour cycles feel more like 5 minutes.
As an added bonus, there are daily challenges you can complete with other students on her private Facebook page. And, yes, those challenges lead to prizes! I started in the middle of the month, but I plan to join in next month & use the challenges as a review for myself.
Unlike some of the continuing ed courses I take, Adrienne's lessons can double as entertainment for Baby J, who loves to watch me make silly sounds & hand gestures over & over. Her mobile-friendly website also makes it possible to get in a lesson or two during nap time when I dare not move.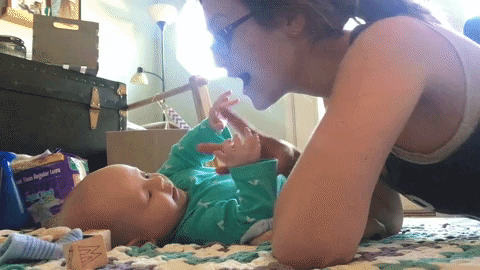 As for the questions I started out with, I have learned that…
You can never start using signs too early. As parents, we need to build the habit of signing while we speak if we want our babes to pick up on them. And remember, we never know exactly when their receptive skills have developed to the point where they connect signs with meaning, so we should give them lots of chances!
The use of signs can lead to less stress in a baby's life, less tantrums, more confidence, & even earlier spoken language!
Babies may vary on when they will start to sign back to you, but expect them to be at least 6 months old.
Adrienne's courses are the perfect place to learn sign language both for communication with your child & with the deaf community. Her courses teach ASL (American Sign Language) & she provides appropriate variations when applicable.
Did I mention she has a TON of YouTube videos on everyday activities you can use to foster communication with the little love in your life? One of my favorites is "Bored Toddler? How to Make Your Toddler Smarter by Playing with Tape."
I'm super grateful to Adrienne for allowing me to take her courses & share them with my readers! I know you will find them as useful as I have whether you're goal is to connect with your child or with other sign language users!
Are you ready to take the plunge & begin signing with your little one? Click here to start your journey!
---
This post contains affiliate links to products & services that I personally use & endorse. This helps me continue to support the research & time required to create & sustain this content. 
SaveSave